The Facebook News Ban And How It Will Impact You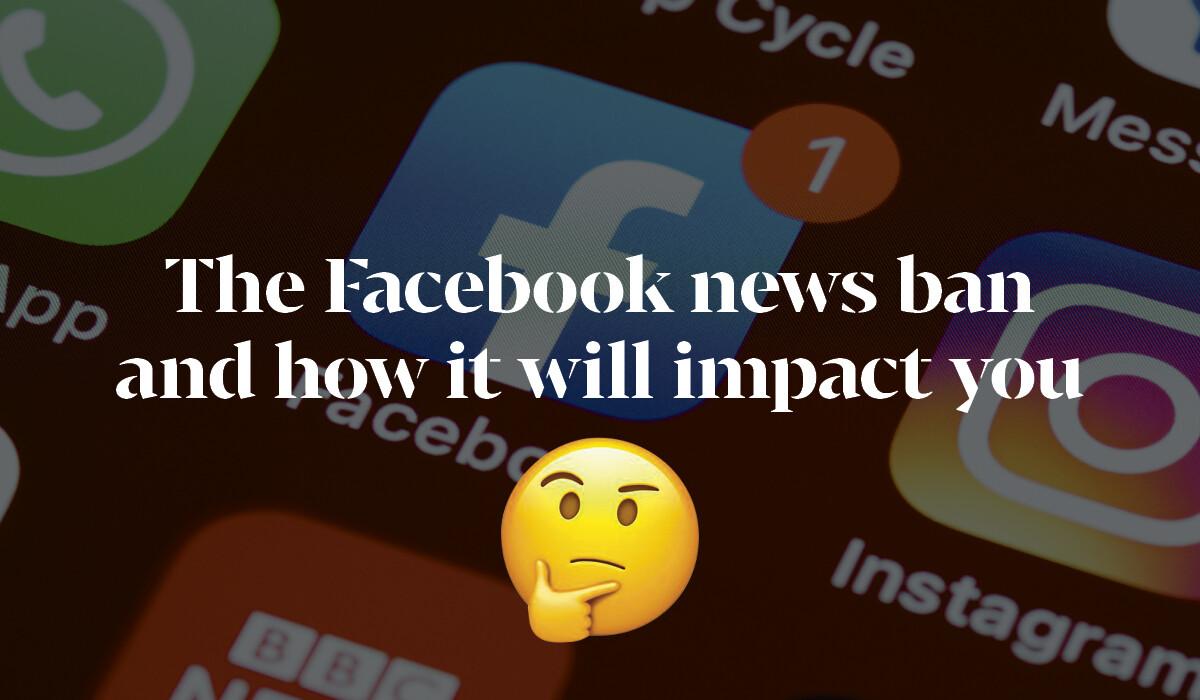 Have you noticed your Facebook feed is looking a little different? Well, that's because Facebook has restricted the sharing of news content and people are not happy about it!
Facebook made this bold move in response to Australia's proposed news media bargaining code legislation that will force internet platforms such as Facebook and Google to pay for news content. Discussions have been ongoing for some time. Facebook suggested more than a month ago it would ban news content if the law was approved. What caught everyone by surprise is that the law isn't across the line yet; the legislation still needs to be passed by the Senate, but Facebook went ahead anyway and clamped down. Hard.
Facebook's decision means Australian publishers will not be able to share or post content on Facebook pages. It also means news content from non-Australian publishers will not be able to be viewed or shared by Australian users. Users outside Australia will not be able to view or share Australian news content either.
Scott Morrison has described the move as "arrogant and disappointing", while Facebook's Australia and New Zealand Managing Director William Easton says "the value exchange between Facebook and publishers runs in favour of the publishers — which is the reverse of what the legislation would require the arbitrator to assume".
How will the news ban impact you?
While everybody is still getting their heads around the changes, the long-term impacts are unclear. Right now, the following restrictions are in place:
Australian publishers
Cannot share or post any content on Facebook pages.
Facebook pages, Page insights and Creator Studio can still be accessed.
International publishers
Can publish and share news articles on Facebook but Australian based users can't view their content.
Australian Facebook users
Cannot view or share any content from Australian or International news publishers.
International Facebook users
Cannot view or share Australian news content.
It is also important to note that at this stage the Facebook news ban does not impact paid advertising.
What can you do if your Facebook page has been restricted?
When Facebook placed the initial restrictions on publishers sharing news content, many Facebook pages that do not identify as news publishers were also unnecessarily restricted. This included Government health departments, not for profits and even Facebook's own page!
Facebook has banned Facebook's own Facebook page pic.twitter.com/bvZGRaO77H

— Andrew Brown (@AndrewBrownAU) February 17, 2021
It is unclear why certain pages were impacted when they aren't technically 'news publishers'. Facebook is receiving widespread condemnation for going overboard with its restrictions and is moving to restore non-news related pages that were unfairly caught up in this stoush.  This situation is a moving feast right now.
One thing that is clear is that Australian news publishers, who rely heavily on Facebook to share their content, will need to adjust their social media strategies quickly to remain front of mind. Simple strategies that are already being implemented include:
Focusing on other channels
Many new publications have encouraged users to engage with content on other channels including websites, apps, Instagram (which although owned by Facebook has not been affected), Twitter and Snapchat.
Join ESPN ANZ on these platforms for your sporting fix:

▫️APP: https://t.co/MflhNEKYFX

▪️SITE: https://t.co/gYviFvzNZr

▫️INSTAGRAM: https://t.co/oROhA9t24S

▪️EMAILS: https://t.co/NJoI7Xw4im

▫️TIKTOK: https://t.co/HX3vq9RBvD

▪️YOUTUBE: https://t.co/JOUHV3PO7x

▫️APPLE NEWS pic.twitter.com/aBdCSmvhBW

— ESPN Australia & NZ (@ESPNAusNZ) February 18, 2021
Increasing email communication
Email databases have become extremely valuable to news publications as they provide a direct line of communication and are owned by the publisher. Expect to see a lot of publishers encouraging you to sign up for, or share their e-newsletters in the coming days.
Morning all! Well today HAS been eventful. If you haven't seen it already, Glam Adelaide has been impacted by today's changes on Facebook. Subscribe here (https://t.co/5f3ut3r8P1 ) to get the latest South Australian News. We'll also post here & on our LinkedIn and Instagram. pic.twitter.com/MGmNMD40kr

— Glam Adelaide (@glamadelaide) February 17, 2021
So…what's next?
The situation at present is not ideal for publishers or users, many of whom, rightly or wrongly, rely on Facebook as a primary news distribution channel and source.
At this stage, and until Facebook reaches an agreement with the Australian Government, restrictions on the sharing of news content will remain.
The Australian Government doesn't seem to be backing away from the fight either. It has now asked global leaders for support, with Scott Morrison saying Facebook "may be changing the world, but that doesn't mean they should run it". We're watching this space with a lot of interest like so many others to see how this plays out.
The Australian Government remains firmly committed to legislating & implementing the mandatory media bargaining code.

This is all about levelling the playing field, protecting public interest journalism & ensuring journalists are rewarded for generating original content. pic.twitter.com/3gBRNUlehq

— Josh Frydenberg (@JoshFrydenberg) February 19, 2021
Finally, while Facebook's decision has shocked many social media marketers, it should also act as a reminder that we are operating on platforms that we do not own. The rules can change very quickly. We need to be flexible and adaptive.
Would you like more information about the Facebook news ban? Contact our Social Media Manager, Laura at laurab@algomas.com.au.
__
Update: Tuesday 23 February 2021
We said last week this situation is a moving feast – and it is.
Facebook blocked new content. The Government fired back saying it would stop spending on millions on Facebook advertising. It was on for one and all.
Turns out the Australian Government and Facebook both had to give up a little ground to meet in the middle.
The pair announced this week they'd reached an agreement and news content would start reappearing in people's feeds.
As reported, the Australian government made these following amendments to the code to keep Facebook happy:
A decision to designate a platform under the code must take into account whether a digital platform has made a significant contribution to the sustainability of the Australian news industry through reaching commercial agreements with news media businesses.
A digital platform will be notified of the government's intention to designate prior to any final decision – noting that a final decision on whether or not to designate a digital platform would be made no sooner than one month from the date of notification.
Non-differentiation provisions will not be triggered because commercial agreements resulted in different remuneration amounts or commercial outcomes that arose in the course of usual business practices.
Final offer arbitration is a last resort where commercial deals cannot be reached by requiring mediation, in good faith, to occur prior to arbitration for no longer than two months.
Facebook released a statement from Global News Partnerships Vice President Campbell Brown saying:
"After further discussions with the Australian Government, we have come to an agreement that will allow us to support the publishers we choose to including small and local publishers. We're restoring news on Facebook in Australia in the coming days. Going forward, the Government has clarified we will retain the ability to decide if news appears on Facebook so that we won't automatically be subject to a forced negotiation. It's always been our intention to support journalism in Australia and around the world, and we'll continue to invest in news globally and resist efforts by media conglomerates to advance regulatory frameworks that do not take account of the true value exchange between publishers and platforms like Facebook".
News of the agreement had news publishers celebrating.
And last night, the Australian Senate passed the media bargaining code legislation.
Is this the start of a new romance between the Government and Facebook – or an uneasy truce? Only time will tell.